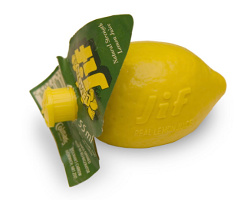 There are loads of creative reuses for these fun plastic containers, but before you rush out to buy them first try these other options for a squirt of lemon on your pancakes;
Option number 1 – Buy fresh lemons! Great fresh taste and environmentally the right option as you can compost the waste. If you have a freezer – save any excess in ice cube trays for future use.
Option number 2 – Buy lemon juice that comes in recyclable glass bottles.
Option number 3 – Buy a larger plastic container and check if it can be recycled. According to the plastic lemon shaped containers they can be recycled – but it doesn't give the type of plastic – so not easy to know how to recycle it.
Option number 4 – Discover a re-created use for these fun plastic lemons.
These are some of the ideas offered over on Recycle This blog and more.
Keep and reuse as Christmas decorations next year – or as a quirky outdoor tree dressing feature – haven't you always wanted a lemon tree?
Alternative water pistols for children (and big kids) – or brilliant bath toys
Collect them and use them in a decorative fruit bowl
Collect and fix onto LED fairy lights as a 'fresh' lighting feature in your kitchen. LED lights don't get hot so these should be fine to use with plastic.
Cut a scoop off the top and use a row of them for growing herbs in the window sill – lemon balm perhaps. Don't forget to pierce some holes for drainage!
Use in children's imaginative shopping and house play. Collect them in a small mesh bag with a fake price label along with single-use cereal boxes stuffed with cardboard and wrapped with packaging tape for durability, egg cartons, milk jugs,  and other packaging.
With a bit of work they could be used as a mould for soap or a candle with some lemon scent.
Use as a container for a favourite lemony essential oil mix.
Fill them with paint, and use them to make Spin-Art or Jackson Pollock inspired painting.
Use them as ice blocks for your water jug in the summer. Fill them with water and freeze – leaving a little room for expansion.